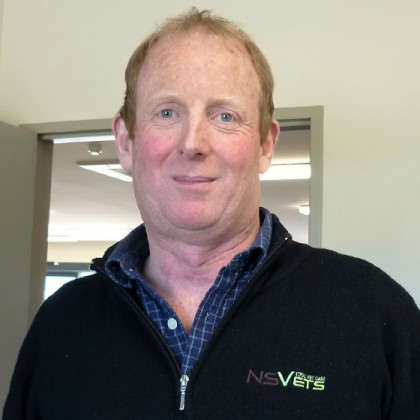 Veterinarian
Born: Invercargill, Southland
Qualifications:
Bachelor of Veterinary Science, Massey University 1991
Bachelor of Science (Zoology), University of Otago

Areas of Interest: Mike enjoys many aspects of mixed animal veterinary medicine but is particularly interested in deer and small animal surgery.

Who Am I? Mike is yet another local who grew up in Invercargill and attended Southland Boys High School. After studying both zoology and veterinary science, Mike worked for 4 years in mixed animal practice in the UK. In 1996, Mike came back to New Zealand to work as a locum in order to fund his around the world adventures. During this time Mike even locumed for NSVets in Riversdale and Te Anau – so he may not be a completely unfamiliar face to some of you! Before coming to NSVets, Mike worked at the Southern Veterinary Centre in Invercargill for 14 years as a small animal veterinarian. Mike now lives in Te Anau with his family and three dogs.Back...