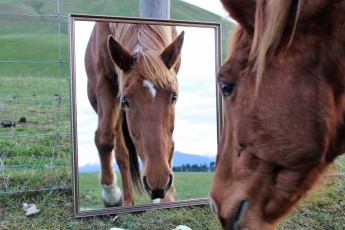 NSVets has a busy caseload of equine work, in particular through our involvement in breeding and dental work. Our association with stud work began in 1980 and continues today with one of the largest Standardbred studs in New Zealand. We also service a number of sport & pleasure horses, with veterinary involvement in the Gore & Northern Southland Trotting Clubs and sponsorship of a race and the Hamish Mavor memorial trophy within the Northern Southland Trotting Club. Several of our vets have a particular interest in horses, both inside and outside of veterinary work.

On top of the routine services and advice you can expect we also offer the following services/packages to maximise value to our equine clients:
H.A.P.P.Y. Horse Programme
When a horse is in optimal health they will feel happier and perform better. H.A.P.P.Y. Horse is an annual equine health plan encompassing three main areas of horse health - dental examinations, parasite monitoring and tetanus vaccination. Our vets will design a personal health plan for your horse/s and their individual needs. We also keep track of your horse's health plan and send reminders when they are due for their next H.A.P.P.Y Horse treatment so there will be less hassle for you. Included in the package is a dental, tetanus vaccination, parasite monitoring (3 x FECs), a sheath clean at dental time for geldings and a records folder for your horse.
Equine Dentistry
Dental check-ups are essential to a horse's health and well-being. Horses' teeth continue to erupt from the gums throughout their life and uneven wear can result in sharp points on the teeth. These points can abrade the cheeks and tongue, causing pain and discomfort. We are lucky to have veterinarians experienced in horse dental care and have facilities to perform a thorough check-up both on farm or at the clinic. We are able to use our dental power float to safely and effectively remove any sharp edges, allowing your horse to eat without pain and also to ensure that the balance within the horse's mouth is as good as it can be. With the use of sedation and a Hausmann gag, we are able to thoroughly examine the mouth safely and stress-free for the horse.
Surgeries
Our vets offer a range of equine surgical options including castration, hernia repair and lacerations. Surgeries can be performed at the clinic or on-farm depending on the facilities.
Breeding Services
NSVets offers a full range of mare reproductive services including ultrasound exam, artificial insemination (fresh & frozen) and pregnancy testing. We also offer low dose uterine horn insemination techniques and embryo transfer.
Diagnostics & Imaging
Getting to the bottom of health and lameness concerns can be frustrating and time-consuming. At NSVets we have a range of tools to help us get a quick and accurate diagnosis with digital X-ray, ultrasound, endoscopy and in-house blood analysis equipment available.