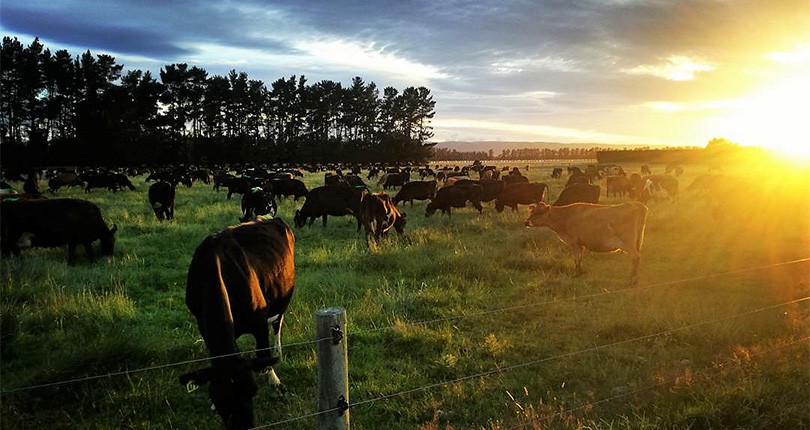 Here in Northern Southland, we service in excess of 50,000 dairy cows, providing all the routine animal health services and advice you can expect from a progressive veterinary practice. We have state of the art ultrasound equipment for accurate aged pregnancies, in-house lab equipment for quick turnaround milk cultures/blood tests and digital X-ray for any complicated lameness diagnoses. Many of our vets have extra training in areas of dairy production including milk quality, lameness and reproduction to ensure the advice you receive is up-to-date and accurate.

On top of the routine services and advice we also offer the following services/packages to maximise value to our dairy clients:
Condition Focus (Body Condition Scoring)
The body condition of your herd has a huge impact on the performance of your business through its effects on milk production, reproduction and animal health amongst others.
Condition Focus is a monitoring package which provides an impartial and consistent measurement of your herd's body condition by an accredited scorer at key times of the year:
Pre-calving – paddock scoring
Pre-mating – paddock scoring
Mid-lactation – paddock scoring
Late-lactation – whole herd individual scoring
Winter – paddock scoring
Included in this package is the ability to upload results directly to Minda along with advice and reports detailing target condition scores and how to achieve them.
If you would just like a one-off condition score by an accredited, impartial assessor we can also do this at your convenience – just point us in the direction of the cows.

Mineral Max
The trace element status of your herd can have far reaching impacts on the performance of your business – reproduction, animal health, milk production and growth of young stock can all be affected by deficiencies.
Our Mineral Max programme is designed to take the hassle out of testing - we let you know when you are due for testing, what testing is required and customise this to your farming business. Signing up to this programme also provides discounts on laboratory fees, maximising the value to you.

Information gathered from this trace element testing can also allow us to design custom mineral mixes for your herd through our relationship with Agvance. These custom blends help to ensure your cows are getting everything they need and nothing they don't, maximising your return on investment.
Healthy Hoof
Is cow lameness getting you down? Are you frustrated at the size of your lame mob? Our Healthy Hoof management programme works with you to identify problem areas and prevent lameness from occurring in the first place. One of our vets will meet with you on farm to develop a diagnosis and action plan, work on skill development, review your lame cow records and ensure your staff are well equipped to identify, treat and prevent lameness issues. As the season progresses your Healthy Hoof programme provider will review your progress with you and develop an action plan for the following season.
InCalf Programme
Reproductive performance is the cornerstone of a profitable dairy farming business. Our InCalf programme is a one-on-one advisory service consisting of a series of consults with a specially trained vet to maximise the reproductive performance of your herd. Working together with you we assess your current herd performance through fertility focus reports, identify opportunities for improvement/financial gain and implement steps to achieve these whilst reviewing each step along the way. Improving next year's reproductive outcomes starts now, call us today for a consult with our InCalf advisors.
Teat Sealing
We understand the importance of mastitis prevention, particularly in first calving heifers, which is why we have a purpose-built trailer allowing easy and efficient application of teat seal. Replacement heifers are often still at the run-off when teat seal should be inserted, but fortunately, with our trailer, all we need is a loading race and holding pen to get the job done. If mastitis in your heifers is exceeding 10% have a talk with us about the benefits of teat sealing.


Disbudding Calves
Disbudding calves can be a time consuming and laborious task, let us take care of it with our efficient and painless disbudding service. You don't need to be present, just point us in the right direction and carry on with the other jobs you need to get done. We sedate the calves and inject local anaesthetic ensuring the welfare of the calves and minimising any undue pain and stress. With the calves sedated this also allows us to check for extra teats, apply rubber rings to bull calves and attend to any health concerns (abscesses/hernias etc). This is also a great time for you to apply any permanent ID/NAIT tags or vaccinate them for clostridial disease and lepto.
Winter & Summer Training Seminars
We offer winter and summer training programmes on animal health and production. Each one of our sessions are aimed at improving your herd's performance by providing your staff with a range of tools appropriate to their level of experience and responsibility. By doing this we hope to improve their confidence and subsequently your herd's performance.
Mastitis Investigations
Many mastitis problems originate from a number of small issues. A mastitis investigation undertaken by one of our specially trained vets aims to identify and eliminate these issues. It also provides staff with the knowledge to avoid problems in the future. Mastitis and high cell counts can be costly and stressful, give us a call if you would like help in getting on top of your mastitis problem.

Training on mastitis is also available at many levels, from basic hygiene to the physiology of milk production, if you would like us to talk to your staff call the clinic today.